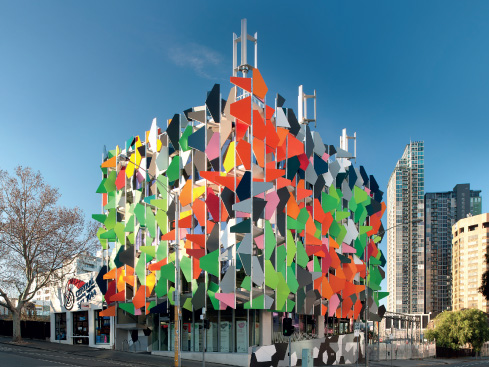 This is one green building you cannot miss!  The Pixel's costume of jagged, candy-colored panels conceals a high-performance building with the world's highest LEED score to date. This eye catching four-floor, 12,300-square-foot office building is located just north of Melbourne's dense central business district was designed by Dylan Brady of Melbourne's Studio 505.
"We're very excited that it was voted among the top ten ugliest buildings in the world, because we're brash down here in Australia and we know how hard it is to get everyone's attention," said Brady about the building's dramatic presence.
The Sustainable Pixel building has been certified with a perfect 6 Star Green Star Design rating, a 6 Star Green Star As Built rating, and a LEED 2009 for New Construction Platinum rating scoring 105 out of 110. A BREEAM rating is in the works. Once attained, it will be the first building in the world to achieve the highest ratings from the three leading rating tools. "If sustainability is spirituality, rating tools are religions," says Brady. "The reason for a building like Pixel to score so high with rating systems is to drag the 75-percent of the building market that doesn't care into a better world."
How is your building's sustainability? Whether you are constructing a new building or refitting an existing structure Advanced Control Corp has the building automation and lighting control to help you go green saving energy and money. From Advanced Control's initial energy design concept throughout the installation process and ongoing system maintenance, every effort is taken to ensure the least amount of negative impact to our environment and our customer's daily business operations.
Advanced Control Corporation offers solutions that are designed to monitor and control every mechanical component and virtually all aspects towards helping you run your facility. It can also extend to security blending our experience in access control with the latest technology to provide feature-rich solutions that can be integrated to your building automation system, video surveillance using your network infrastructure for an enterprise class integrated system or have each operate completely stand-alone. Our control systems are designed from the ground up to meet the most stringent building requirements and government regulations. In addition they are implemented to provide efficient use of your buildings mechanical equipment all while maintaining the comfort that your inhabitants require.
Advanced Control has the experience with implementing the most energy efficient solutions for your facility and we work with the consulting engineers in designing your building management system to offer the monitoring and control everything you may require. At Advanced Control Corporation, we have a history for green technology and green initiatives long before being green was cool. We are working on and have completed numerous LEED certified facilities in the South Florida area, so we have the experience to help you achieve the control over your facility. Contact Advanced Control today at 954-491-6660 and let one of our experts help your building go green.